Medical Acupuncture Kitchener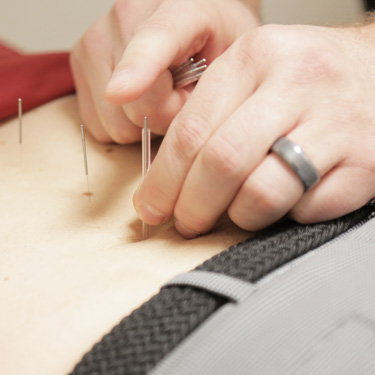 The team at Heritage Park Physical Therapy is dedicated to helping you improve your overall well-being. No matter what your concern may be, we welcome the opportunity to speak with you. We can sit down with you, talk about your problems and determine if we're the right place for you. With our myriad of services, we can combine several solutions to give you the greatest benefit.
Commonly Helped Conditions
Dr. Plante is certified in acupuncture through McMaster University. This proven, therapeutic technique helps many forms of dysfunction and pain. Performed by a qualified professional, it is a safe and effective option. The many conditions that may respond well to medical acupuncture include
Back pain
Carpal tunnel syndrome
Fibromyalgia
Headaches
Migraines
Neck and shoulder pain
Neuropathic pain
Sciatica
Stress relief
Tennis elbow
And many more
FAQ
How will you know if I can benefit from acupuncture?
Our thorough assessments will show the nature of your problem and how best to care for it. If we find that medical acupuncture may be beneficial, we'll discuss it with you before moving forward.
What happens during an acupuncture session?
Fine, hair-like needles are inserted in specific areas of the body. In turn, a natural healing response is stimulated. You'll lie on a comfortable table for a set amount of time. When completed, we'll remove the needles and you'll be on your way.
Does insurance cover medical acupuncture?
Some insurances may have coverage for medical acupuncture Kitchener. We suggest that you contact your carrier to check with them so that there are no surprises. We'll direct bill to the insurance for you.
What does it cost out of pocket for medical acupuncture?
It is a $55 out of pocket fee for this service.
Get Started on Improving Your Health
Have you been trying to ignore pain? Is it becoming a normal part of your life to feel inactive or unhealthy? We want to help you regain your life. Contact Heritage Park Physical Therapy today to schedule a free consultation! We're open on Saturdays and have late hours.
---
Acupuncture Kitchener | (519) 893-8800