Custom Foot Orthotics Kitchener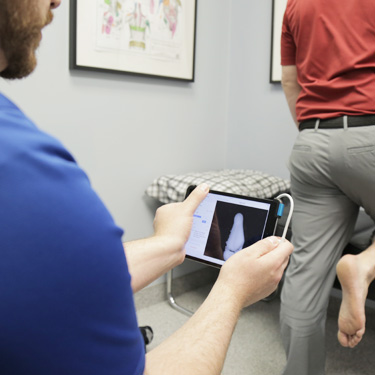 You've probably seen shoe inserts in stores. Also called arch supports or orthotics, they can give your feet the support they need. The custom-created orthotics at Heritage Park Physical Therapy are made specifically for you and to support your unique condition.
What is an Orthotic?
Orthotics are a thin insert put into your shoe. When worn, they can correct biomechanical dysfunction, abnormal walking patterns or a foot deformity. These conditions can cause stress to your feet. In turn, the rest of your body can be affected. Orthotics support your feet and ankles. They hold your weight while you walk, run, jump, squat or stand. The goal is to decrease the stress in your foot so that your overall function can be improved.
The materials that your orthotic can be created from include neoprene, leather or vinyl. We'll discuss these choices with you so that you receive the orthotic that is most appropriate for you.
How We Determine Your Needs
Dr. Plante has trained extensively in understanding the health of your entire body. He has also completed a master's degree within foot and ankle biomechanics. He'll assess you and whether you are a candidate for orthotics. Feet are your main source of transportation, making it vital that they function well!
Schedule Your Free Consultation With Us
Are you interested in learning more? We'd like to give you an opportunity to find out if we can help you without cost or obligation. We provide free consultations. At this appointment, you'll sit down with Dr. Plante to discuss your concerns. We'll tell you if we think we're the right fit for you. You can then choose whether you'd like to move forward. Contact us today to schedule your consultation! We have same-day visits available.
---
Custom Foot Orthotics Kitchener | (519) 893-8800