Registered Massage Therapy Kitchener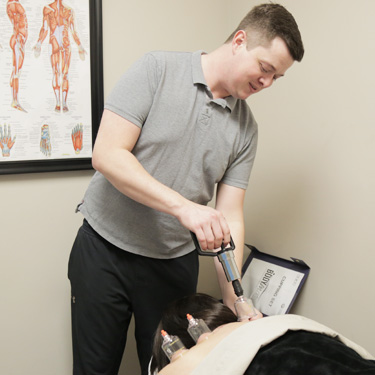 Think of having time to yourself. You're lying on a comfortable bed in a soothing environment. A talented, professional massage therapist is using a pressure of your choosing to soothe your sore muscles. We think that everyone deserves to disconnect, relax, let the stresses of the day melt away or even relieve some of the pain you have been experiencing. If it sounds like something you need, Heritage Park Physical Therapy offers registered massage therapy. Our massages employ a range of techniques. They're applied to the tendons, fascia, muscles and joints of the body. You won't find that there is pain involves in your massage. You may, however, feel a slight level of discomfort on the more tender areas during or after the treatment and the therapists' can alter the pressure they use from light to deep tissue at your request.
The Benefits of Massage Therapy
According to research, therapeutic massage can relax muscles and increase your blood circulation and lymphatic flow. It can also improve your healing, reduce inflammation in joints, boost your mobility and boost your endorphins the body's natural way of reducing pain. Massage is a clinically oriented health option that achieves excellent results when treating the discomforts arising from stress, muscular overuse and many other chronic pain syndromes. Our goal at Heritage Park Physical Therapy is to relieve pain, and maintain, rehabilitate and improve your overall physical function of the body. If you feel stressed, have overused muscles or suffer from chronic pain, massage may be the ideal solution. It isn't just for these ailments, however. It can also prevent your body from having aches and pains and help you relax. Although pain and dysfunction is often the reason to use massage therapy, it is not required. Massage therapy is a great way to prevent aches and pains from arising as well as a way to relax and assist with the physical manifestation of daily stress.
Who Should Get Massage Therapy?
We recommend our registered massage therapy to those who have conditions such as
Ankle and foot pain
Arthritis
Delayed onset muscle soreness
Fluid retention
Headaches and migraines
Hip and buttock pain
Nerve impingements
Lower back pain
Neck and shoulder pain
Numbness and tingling
Painful and tight muscles
Postnatal pain
Postural pain and discomfort
Pregnancy massage/ prenatal pain
Repetitive stress injuries
Rotator cuff injuries
Sciatica
Sports injuries
Stress
Tendinitis and tendinopathies
Tennis and golfer's elbow
Registered Massage TherapyFees
30 minutes: $65.00
45 minutes: $85.00
60 minutes: $100.00
75 minutes: $125.00
90 minutes: $145.00
Indian Head Massage: $70.00
No Referrals Required
You don't have to be referred by your doctor to receive registered massage therapy Kitchener. Your insurance company may require a referral to cover your massage, so we suggest you check with them to be certain. Contact us today to book your appointment!
---
Massage Therapy Kitchener | (519) 893-8800