Chiropractic Care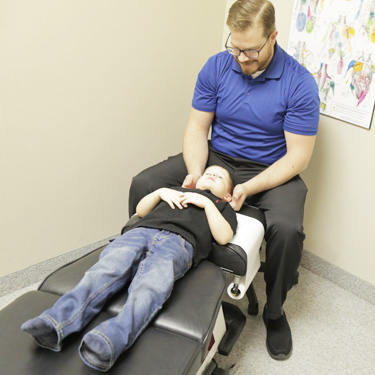 More than 4.5 million Canadians agree: it's how they address a myriad of problems.
Low-back pain, neck pain, headaches and joints such as the shoulder, elbows, wrists, hips, knees, ankles and feet can be helped with chiropractic.
You're the Boss
Our safe, noninvasive techniques are designed to restore the motion to your muscles and joints. We may employ our hands to adjust you or an instrument. Diversified, Activator®, Graston, acupuncture and rehabilitation exercises may be used as appropriate.
If you prefer a certain technique, please let us know and we'll adapt to you. Know that a sound produced by the adjustment is natural. It is a gas being released from the joint caused by the movement we're making. We'll detail informed consent to you before moving forward with your first adjustment. As your condition improves, we'll decrease the frequency of your visits.
Commonly Helped Conditions
There are many concerns that can be effectively addressed by chiropractic:
Lower back pain
Neck and shoulder pain
Hip and buttock pain
Rotator cuff injuries
Arthritis
Headaches and migraines
Sciatica
Temporomandibular joint (TMJ) disorder
Muscular and motor pattern imbalances
Repetitive stress injuries
Tendinitis and tendinopathies
Sports injuries
Knee pain and patellofemoral conditions
Tennis and golfer's elbow
Carpal tunnel & wrist pain
Nerve impingements
Numbness and tingling
Ankle and foot pain
Plantar fasciitis
IT band dysfunction
Chiropractic Fees
First Visit / Initial Assessment: $95.00
Reassessment (3+ months since your last visit): $75.00
Chiropractic Treatment: $48.00
Integrated Treatment: $64.00
Acupuncture: $64.00
Shockwave Therapy: $85.00
Custom Orthotics: $495.00
Schedule Your Free Consultation
Are you new to Heritage Park Physical Therapy? Wondering what the benefits of chiropractic may be for you? Find out more during a no-cost, no-obligation consultation with Dr. Plante. We'll sit down to briefly discuss your issues and whether we think we're the right place for you. If not, we'll tell you that, too. Then, you can decide whether you'd like to move forward. Contact us today to schedule your consultation! We are open for Saturday appointments and provide extended evening hours.
BOOK NOW
---
Chiropractic Care Kitchener | (519) 893-8800